FAQs
What is the Greenheart Club?
An online social network that encourages people to volunteer by tracking volunteer hours, connecting volunteers around the world, and providing grant funding for service projects. Read more about the Greenheart Club.
What is volunteering?
We define volunteer service as any work done for the benefit of others, or the environment, without any direct personal profit. There are two different types of service.
Direct Service: With direct service, typically the work is physical in nature. For example, assisting in community service project, soup kitchen, library, park clean-up, forest restoration, helping youth or the elderly, disaster relief, etc. You are directly confronting an issue, hands-on, facing your community with positive action.
Indirect Service: With indirect service, typically action happens behind the scenes. This could include fundraising, advocacy, service as a board member to a non-profit, generating awareness around an important cause, etc. You are often working with others developing projects and programs to help your community, often leading to direct service.
For more information take a look at our Volunteer Definitions page.
How does the Greenheart Club benefit me?
It gives you the resources which help you connect with your community and a global volunteering network.
You can earn up to a $1,000 Greenheart Service Grant to do a project with a meaningful community, cause, or nonprofit of your choice.
Track your community impact with the Greenheart Club's professional system.
Read more about the benefits of the Greenheart Club.
Who can log volunteer hours with the Greenheart Club?
The Greenheart Club is a network exclusively for our Greenheart community of stakeholders. This includes CCI Greenheart & Greenheart Travel participants and alumni, Local Coordinators, Host Families, International Sending Agencies, Employers, Partner High Schools & American High School students.
How do I find a place to volunteer?
The Greenheart Club encourages its participants to engage with members of their community. Ask around. Your family and friends will most likely know of the best places to volunteer in your community.
Check out our Helpful Volunteer Websites page Many of these websites will help you find the right volunteer activity for you.
Are you volunteering in the United States? Check out our volunteer opportunity map.
Here's a list of great places to inquire at for volunteering:
Libraries
Hospitals
Animal rescue shelters
Nursing homes
Churches
Soup kitchens
Government offices
Community events (beach and park cleanups, fairs, races, festivals, etc.)
Does the Greenheart Club offer volunteering events?
Greenheart organizes volunteer projects throughout the world. Some of our projects include:
Since the Greenheart Club is a global organization we might not be able to reach your community with a Greenheart Service project. We encourage you to organize your own Greenheart Service project and participating in volunteer events in your community. Learn more about finding a place to volunteer.
How do I log my hours?
Why does it say "validation problems" when I try to log my volunteer hours?
The message "validation problems" occurs when a participant does not enter information in all the required fields. Make sure you have entered information in the following fields:
Organization
Date
What you did
Type of work
Hours
Supervisor's name
Supervisor's phone or email
What if I forget my password or username?
You can reset your password by visiting the following link: http://greenheartclub.org/password
Once you click on the link you will be directed to enter your email address that you registered with. An email with a link will be sent to that account. After you click on the link, another email will be sent to you with a new password. Go back to the login page and type in your username and new password. Once you have successfully logged in, go into your profile settings and change your password to something unique that you will remember.
What is the approval process once I log my volunteer hours?
Once you have logged your volunteer hours, they will be sent to the Greenheart Club administrator for review. The administrator will either approve or deny your hours based on our Greenheart Club volunteer guidelines. If you have questions on why your hours were rejected, please review the guidelines before contacting the Greenheart Club.
Expect up to 3-5 business days before your hours are approved.
Why were my volunteer hours rejected?
Volunteer hours are rejected if they do not adhere to the Greenheart Club's definition of volunteerism. To better understand what volunteerism is, please refer to Greenheart Club Volunteer Definitions.
Do cultural presentations count as volunteering?
Cultural presentations do count as volunteering as long as they are for International Education Week. You can find more information about International Education Week on the U.S State Department's Website.
What is the difference between an extracurricular activity and a volunteer activity?
Extracurricular activities are those associated with school that rarely benefit a social or environmental cause. These activities include, but are not limited to:
School athletics

Playing
Managing
Coaching
Assisting

Drama Club

Acting
Stage Crew participation

Student Council
Yearbook
Student Newspaper
Volunteer activities are those that have a social or environmental agenda and benefit your community. There are many school activities that the Greenheart Club does consider to be volunteering. These activities include, but are not limited to:
Tutoring
Helping at the school library
Helping students with special needs
Facilitating a middle or elementary school event
Participating in your school's volunteer club service ACTIVITIES. (NOTE: going to your volunteer club's meetings is not considered volunteering).
Does hosting an exchange student count as volunteering?
Yes! Host families can log 5 hours per month for hosting an exchange student.
Is participating in a volunteer club considered volunteering?
The volunteer club meetings are considered extracurricular, but the actual volunteering that you do with your volunteer club is most definitely considered volunteering. For example: Making plans with your volunteer club to go to a food pantry is NOT considered volunteer work, but going to food pantry with the volunteer club IS considered volunteering.
How can I stay involved with the Greenheart Club after my exchange program has finished?
We encourage all our participants to continue to be involved in the Greenheart Club when they return home from their exchange program. You can continue to volunteer just as you did in the United States but alumni will now be eligible to receive our $2,000 Greenheart Club Grant to do a project in their communities.
Not only do we continue to encourage alumni to volunteer, but we also encourage them to get further involved in the Greenheart Club by opening their own Greenheart Club in their home country. The Greenheart Club is able to give special funding to those alumni who would like to open a new chapter.
How do I bring Greenheart Club to my home country as an alum?
Be the founder of a Greenheart Club! We have funding and resources to help you bring the Greenheart Club to your home. Contact us at cclare@greenheart.info for more information.
Who do I contact if I am experiencing technical difficulties?
Fill out the form found here http://greenheartclub.org/help/report-a-problem. Once you have filled out and sent in your problem report we will work with you to resolve the issue as soon as possible.
Expect 3-5 business days for a reply.
What happens to my hours from previous years?
Every year or every academic year (for High School students) your green heart will reset itself so that you can work to fill it up in the new year. You are able to view your previous hours by clicking "previous hours" underneath your heart. There, you will be able to see the hours you volunteered for each year that you have been a Greenheart Club member.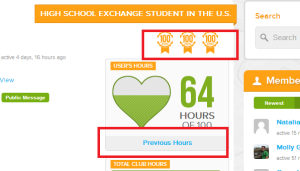 What are the 100 hours badges?
Once you reach 100 hours, your Greenheart will become full. In order to show your increasing hours, your heart will reset itself and a 100 hours badge will appear above your green heart. The more hours you do the more badges you receive!
How can I be highlighted in a Greenheart Club blog?
After you have volunteered 100+ hours, email us (info@greenheartclub.org) a blog with photos documenting your experiences volunteering!
How can the Greenheart Club help fund my community project?
The Greenheart Club awards a $2,000 grant twice a year to participants who have volunteered over 100 hours and apply for the grant. Once you have reached 100 hours the Greenheart Club will contact with on how to apply for the $2,000 grant.
Each time the Greenheart Club reaches 10,000 volunteer hours as a whole, the group will make a grant donation to a cause or organization of our choice. These causes or organizations could address large global issues or help specific communities doing great things. All members nominate these organizations, you are allowed to nominate your own organizations.
The Greenheart Club has special funds for those alumni who wish to found their own chapters of the Greenheart Club in their home country.
What if I am a CCI Greenheart or Greenheart Travel exchange participant, are there special instructions for me?
Participants of CCI Greenheart and Greenheart Travel cultural exchange programs have special incentives to volunteer during their program abroad. If you are a Greenheart Travel Participant, look in your resources to find your specific information! For more information, visit the CCI Greenheart and Greenheart Travel websites.